The newest trend in recruitment. Sales-Driven Recruitment powered by Sales-Driven Recruitment Technology.
Recruitment cycle organized around sales
Sales-Driven Recruitment means your entire recruitment cycle is centered around sales. Because you:
sell your agency's services to prospects,

sell vacancies to candidates,

and you sell candidates' qualifications to clients and prospects.
Nothing gets overlooked
In Sales-Driven Recruitment, you work hard. You never overlook any (online) vacancy in the market. You don't miss relevant candidates, and Sales-Driven Recruitment means that you make sure every suitable vacancy gets matched with qualifying candidates.
Automated Resume Matching
100% of your CV's match with 100% of all vacancies
Your Sales-Driven Recruitment process gets powered by Sales-Driven Recruitment Software. This ensures that all your candidates get matched with all online posted vacancies in your country. 
But it is not solely about the matching. SDR ensures a smooth, automated communication stream to all candidates and (potential) clients.
How does Sales-Driven Recruitment work?
So Sales-Driven Recruitment means the fast matching of all your excellent candidates in your database with all relevant vacancies in your country; 100% coverage, real-time.
Imagine how Sales-Driven Recruitment would work for your recruitment agency. Your software harvests all online vacancies for your niche and region. Your software follows up all these potential deals with specialized offerings. 
Probably not possible for you, right? 
For this to happen, you need a real-time overview of all the online vacancies in your country. You need to identify the right contact person and e-mail address automatically. Next to that, you need many qualifying candidates. And an automated mass e-mailing system to inform the companies about the deals immediately. Next to that, you want to ask all the matched candidates if they are interested in these job opportunities. All the features you can use in your sales-driven recruitment strategy are featured in this article:  http://staa.agency/sales-driven-recruitment-software/ 
Sales-Driven Recruitment Strategy #1 
All on-line posted vacancies. A 100% coverage.
In most countries, companies post thousands of new vacancies on job boards every day. It is of paramount importance that you inform all these companies that you and your agency exist so they can benefit from your professional recruitment services. 
If you don't, your competitor certainly will. And you need these opportunities to stay alive, certainly in these times when opportunities have decreased considerably. This requires a lot of workforces to scan all job portals and company websites. 
You can use vacancy harvesters for this. However, vacancy harvesters do not give extra tools. Tools that help you find contacts & e-mail addresses. Software that helps you communicate with thousands of (potential) clients and candidates automatically. 
This technology exists. But in a few recruitment applications, you find all the necessary functionalities combined. Sales-Driven Recruitment technology combines all the relevant tools in one recruitment solution. More about all the tools in this article: http://staa.agency/sales-driven-recruitment-software/. 
Sales-Driven Recruitment Strategy #2
You can match all your resumes to vacancies.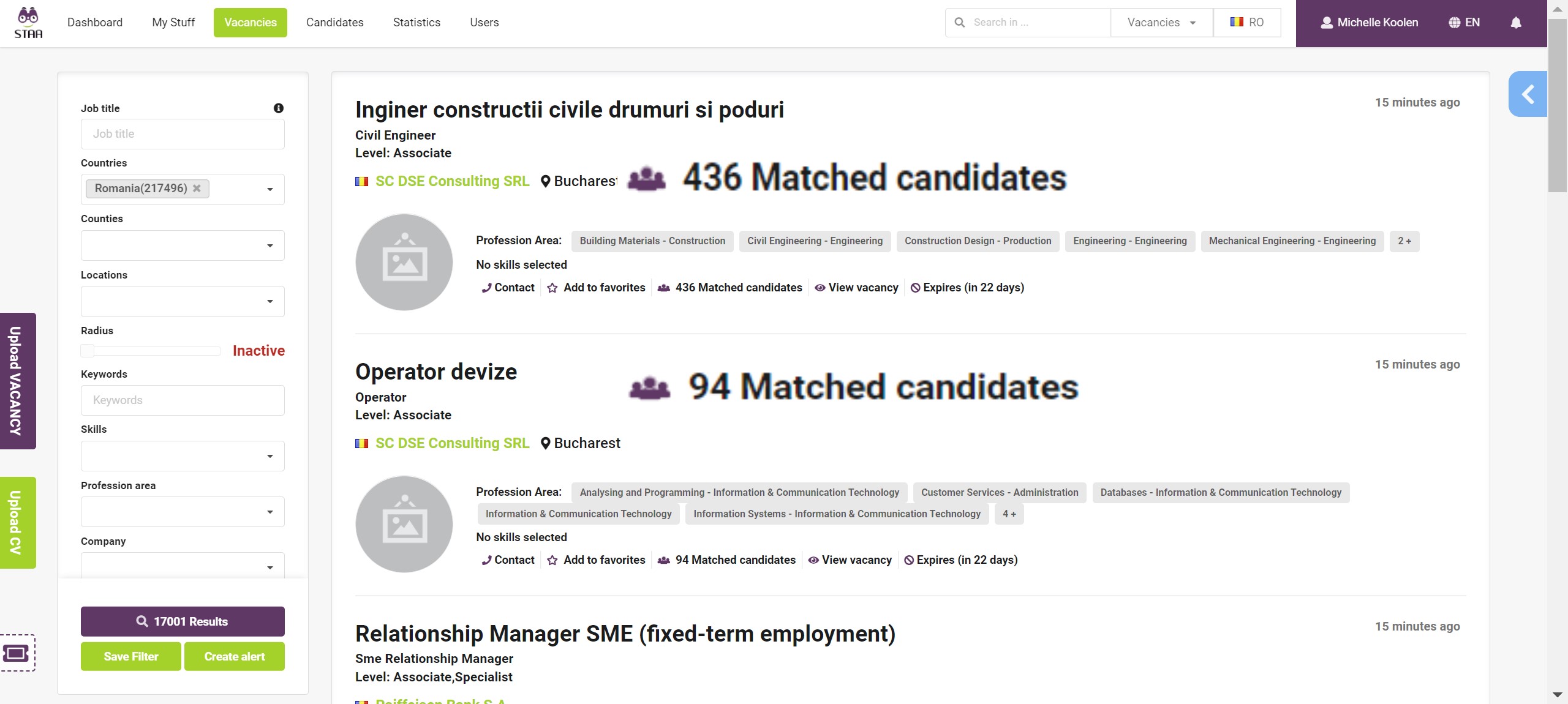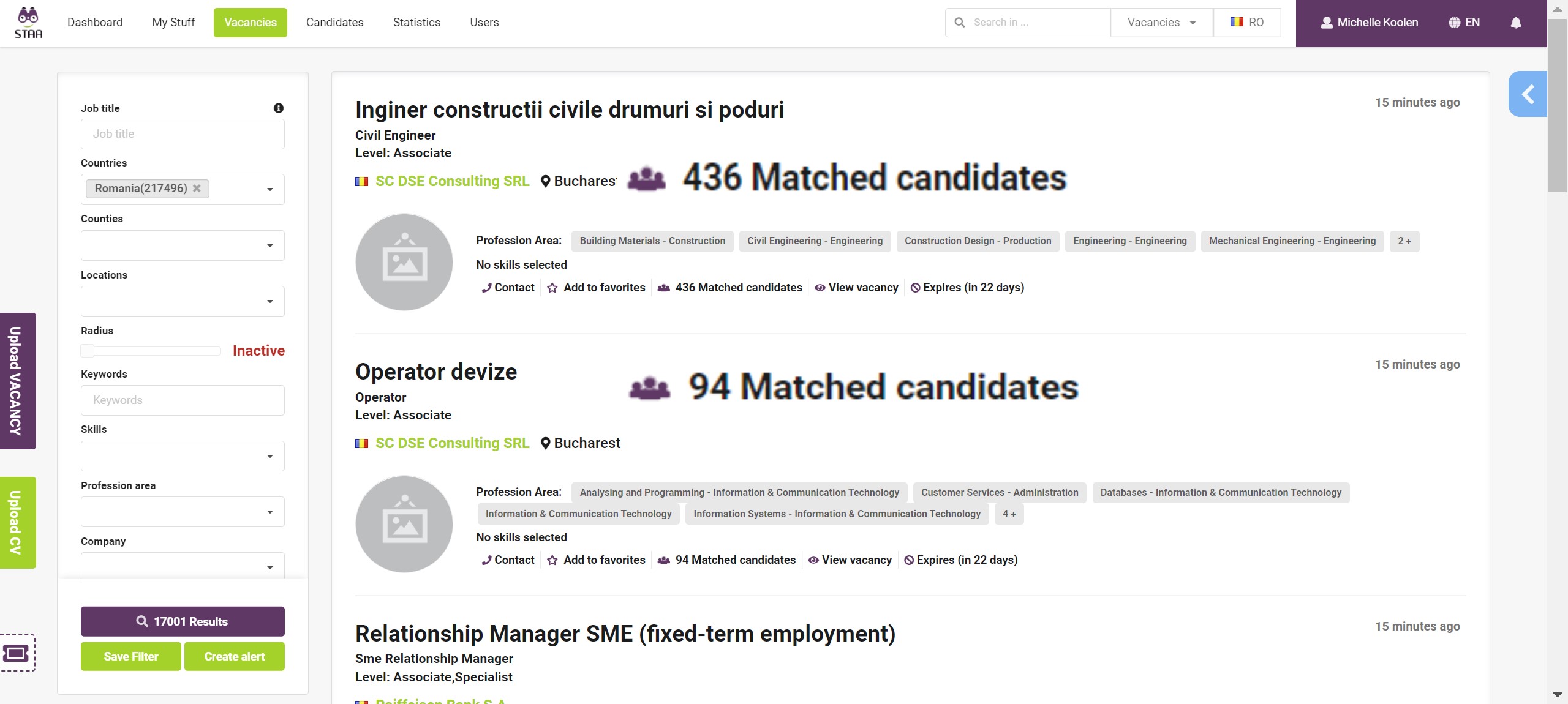 Recruiters, search in your database for candidates with the help of Boolean search. Because of this, even the best recruiters continuously overlook potentially great candidates. When they overlook or forget candidates, they miss out on placements, which happens much too often with traditional recruitment technology. 
This results in recruitment agencies having success rates (or fill rates) of less than 30%. Even the very best permanent staffing agencies don't come higher than a success rate of 60%. To solve this, you need Sales-Driven Recruitment to maximize the fill rate to the highest possible level. 
As you need software to match all your available candidates to all your clients and prospects vacancies in seconds. 
Another critical factor is that you can inform all your clients and prospects instantly. However, this depends on the number of relevant potential candidates you have in your database. You can send them immediately the (anonymized) resumes. Next to this, you can inform all the candidates and see if they are interested in one or more vacancies.
Sales-Driven Recruitment technology has all the functionalities in place to facilitate this.
Sales-Driven Recruitment Strategy #3 
You can place all your excellent candidates.
In permanent staffing, recruiters usually send short-lists of five excellent candidates to their client, and the client hires one. This means the rejection of four candidates. But you interviewed them, and the candidates are great and ready to change jobs. Sales-Driven Recruitment helps these candidates find another job to which they are a perfect match. However, when you perform this manually, it is time-consuming and difficult. And because of this, you will not do it, and miss out on a lot of opportunities.
You would need at least a team of 10 full-time sales recruiters to do this for a hundred candidates per country. Sales-Driven Recruitment technology helps you and will enable you to cover the entire market while only one person can operate this on a part-time basis.
Results Sales-Driven Recruitment Technology
 in combination with a Sales-Driven Recruitment Strategy 
Your agency can contact all relevant prospects in their country quickly, which ensures 100% market coverage. You win time to dominate your niche. 

All the vacancies are matched with all the resumes in the database. Not a single vacancy is overlooked or forgotten, not a single client is overlooked or forgotten and not a single prospect is overlooked or forgotten. And, not one relevant candidate is overlooked or forgotten. This increases the success rate for the agency from day one. Immediately the number of placements will increase. And increase.

Every recruiter has in its network many excellent candidates who are ready for a move. This is a potential gold mine for every recruiter. A gold mine for every agency. And it is not monetized. At best, it is a little bit monetized. Why? Because it is very time consuming and because it is so time-consuming the price of doing this, the investment in this activity does not render enough revenue. Or better said, the revenue you can realize does not justify the investment as the cost might be higher than the income.
This all changes with Sales-Driven Recruitment Technology. SDR can match 1.000's of your Excellent Candidates within seconds with ALL the relevant vacancies in your country, and it can send (anonymized) CV's, also in seconds, to all these clients and prospects. And if you like SDR also sends a message to all these excellent candidates. Now the gold mine can be mined, and the ROI is enormous. Recruiters will double or triple their monthly placements without any extra workforce. Your only investment is the license for the Sales-Driven Recruitment Technology.
In Recruitment, you always sell!
The salesperson has to sell the agency to his prospects and clients.

The salesperson has to sell the vacancy and the client to his or her recruiter.

The recruiter has to sell the job to their candidates.

The recruiter has to sell their candidates to their clients.

The corporate recruiter has to sell the agency they want to work with to their boss.

The corporate recruiter has to sell his or her candidates to the hiring manager.
And if something is "always sold" in Recruitment something is also "always purchased" in Recruitment.
And Sales-Driven Recruitment Technology enables this process in the easiest, fastest, and most optimum, and transparent way.
If you are curious about how Sales-Driven Recruitment Technology works you can ask us to send you a link for the demo environment of STAA. STAA is the most advanced recruitment technology you will experience and it is 100% Sales-Driven Recruitment Technology.
We invite you to register to our DEMO platform, one thing it loads a little slower than usual webpages: https://demo.staa.agency/demo/register. Seeing is believing.
This article is written by Gerard.koolen@staa.agency and you can call him on +3162295924