Which job boards in Ukraine are worthwhile to use? Learn more in this article, and get real information on Job Boards in Ukraine. I will show you a graph and, after that, links to all the job boards with some background information.
Job Boards Ukraine
Are you interested in which job boards companies upload the most vacancies? Then you are in the right place. Because we know for sure which job boards supply us with more vacancies and which don't. Why? Well, we measure precisely how many vacancies our harvesters download from all the job portals STAA crawls.
You can see in our graph named 'top 10 vacancy sources', the number of vacancies our harvester has downloaded from these job portals.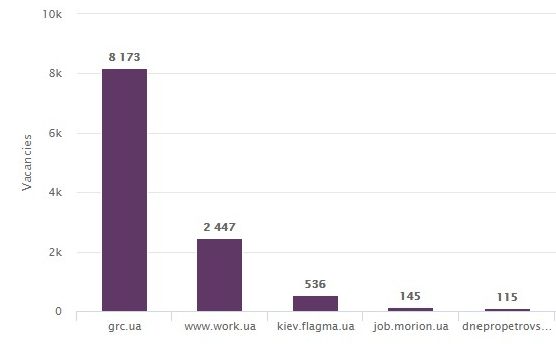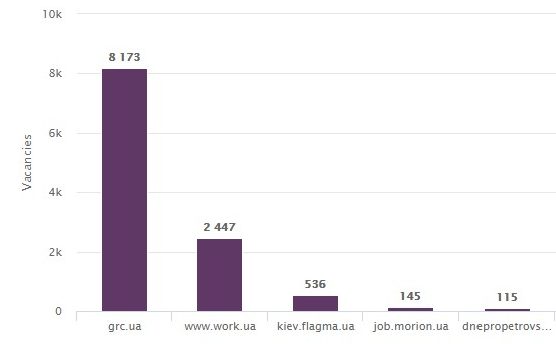 Leading Job Board Ukraine 2020
The biggest job portal is grc.ua because we could download way more vacancies from that platform than from the others. According to Jobboard Finder, is a generalist Job Board, founded in 2005, has 100+ employees, and it is a national job board in Ukraine.
Leading Job board Ukraine
The second biggest job board in Ukraine is work.ua This generalist job board was founded in 2006; it has 100+ people work there and it is a national job board in Ukraine. (source, Jobboard Finder)
Other job boards
Flagma.ua
Flagma.ua is more a marketplace website, not solely focused on vacancies. You can find big machinery, cars, and you can even buy big bags with clay on that website. STAA is only crawling the vacancies that are open in Kyiv, which are 536 for the past two months. This website is not on jobboardfinder.com.
Job.morion
This Ukrainian job board is focused on medical personnel in Ukraine. It is a paid website, so companies have to pay for job ads they want to place there. This job board is not on jobboardfinder.com.
Contact us
Are you interested in some more/different statistics, or do you have tips to improve our content, or do you like to learn more about STAA? Please contact us through contact@staa.agency or use our application form.
Follow us and keep learning!