In this Recruitment Automation blog, I will talk about how to automate your recruitment process with Resume Matching Software. You are reading one blog in my series in which I explore different recruitment automation possibilities for recruitment experts. I try them out and describe the way it works. So you can learn in a practical way how to apply Recruitment Automation Software to automate parts of your recruitment process. 
Why automate resume matching?
As a recruitment executive, you want to improve your recruitment process, make it cost-effective and more profitable. That is why you might be thinking of automation. Because how nice would it be to automate parts in the recruitment process so your recruiters can do more?
Well, there is a time-consuming part you can start automating immediately! And this is sourcing and matching resumes to vacancies to create long lists of candidates. Usually, this is a hell of a job. Because this can take up much time, a couple of hours, until a couple of months. To solve this, you need to start using Resume Matching Software.
How to automate resume matching! And some sourcing too:)
Today's review is all about the resume matching feature of STAA. STAA has a couple more features, but this time I will focus on this functionality. In a nutshell, it automatically imports vacancies from job boards, matches them with the resumes in your database, and creates longlists of matching candidates. STAA can save much time that would otherwise be spent on sourcing inside your database, scanning resumes and creating longlists.
Cost: we are now creating a fair and square way for businesses to pay for our service.
Time investment: this costs some time, around a week, depending on the speed you deliver the data and the quality of the data.
Location: worldwide.
How Resume Matching Software works
So STAA matches candidates' resumes, with vacancies. It sounds simple, but this is a complicated process that consists of several steps. Parsing, translating, and matching are all challenging tasks for machines to do. I will show you how it works step by step with one single CV.
1. upload the CV into STAA
You upload a CV into STAA, which starts the whole process.
2. STAA parses the CV into keywords and translates them
First, the parsing software reads the resume and extracts keywords. You can see these marked in yellow. Second, the translating software translates them into English, and after that, the matching algorithm will start working. In the screenshot below, you can see that STAA has matched this candidate with ten jobs. So there is a good chance that you can place this candidate immediately.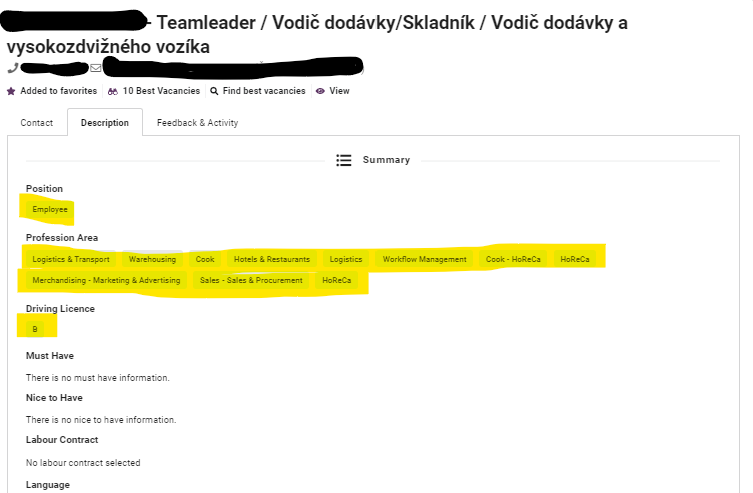 3. STAA matches the CV to vacancies
The matching process is an extensive process that costs a lot of calculation power. The machine has to scan many jobs, resumes, and match them. Next to that, we have applied rules to the matching algorithm. This way, we imitate the process a recruiter goes through naturally. And to get to a level we want, we continually teach the system how to match better.
In the circle diagrams below, you see that STAA reaches a matching score of 73% (left) and 83% (right). This means that in 7/8 out of 10 vacancies you will have a list with matching candidates, which can vary from one candidate to 128 (a limit we decided, increase it if you want). And this matching score improves through usage and data-improvement. The left graph is from one client who just started using it, and the right one is from a client who uses it frequently.

4. STAA creates longlists and shows the matching score
After matching, STAA creates a longlist. For this vacancy STAA has found 37 candidates who qualify, and it has ranked the suited candidates on the matching percentage.
Automate resume matching and sourcing
Oke, it does not automate all the sourcing (social media sourcing is also necessary to do), but it automates sourcing inside your database of candidates, and it helps recruiters with a starting point. Because you can imagine: it is easier to start working on a vacancy when the software has found twenty matching candidates instead of zero. You can start contacting candidates immediately!
There is also a new feature coming up. We are busy creating a connection between job boards in every country and STAA. In this way, you can choose to purchase job board resumes that match the job you are working on. Because of this, STAA can help you better, even if you don't have a large database of resumes.
So that is how Resume Matching Software helps you to increase the productivity of your recruitment department.
Automate your Recruitment Process
My ambition is to review more recruitment automation tools. To help you to make an informed decision about what and how to automate specific parts in your recruitment process.
Contact us today!
Do you own, or have you found a new recruitment automation tool, and you want me to review it? Or are you interested to learn more about STAA? Or do you have something else to share?
Here are all the ways to contact my colleagues and me, and we would be very happy to talk to you: